References
Scoraig Bathroom, Scotland, (UK)
---
Description
This was my very first work and how happy I am with the result!
The underground is pressed woodfiber board. Not ideal at all, as it was pretty bendy. But, it works fine! I used bought-in plaster and primer for the undercoat but made the tadelakt myself.
The floor is 'poor man's tadelakt' using only throwels, not stones. The brown is bronze glitter powder. My client liked it so much, she had me play in her kitchen aswell.
Thumbnails (click on image to view full image)
Scoraig Kitchen 3D splashback, Scotland, (UK)
---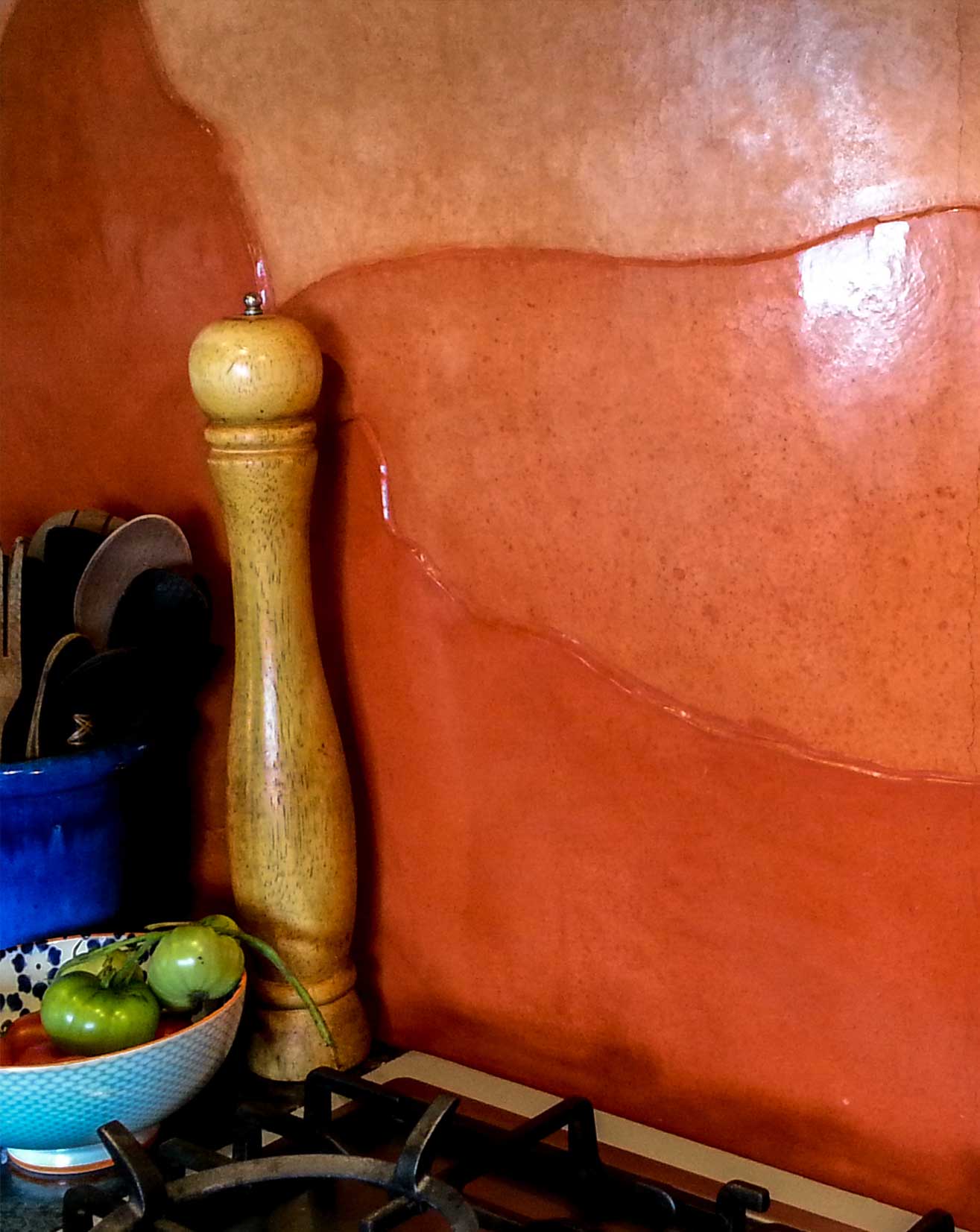 Description
This is a very special work as I tried something totally new (I have never seen it anywhere before, or after).
Working with different layers for extra effect. The view from the kitchen window inspired these mountain ranges. The difference in colours induces the feel of depth, but the different layers of different colours of tadelakt truely enhances that feeling.
Thumbnails (click on image to view full image)
Edinburgh Bathroom, (UK)
---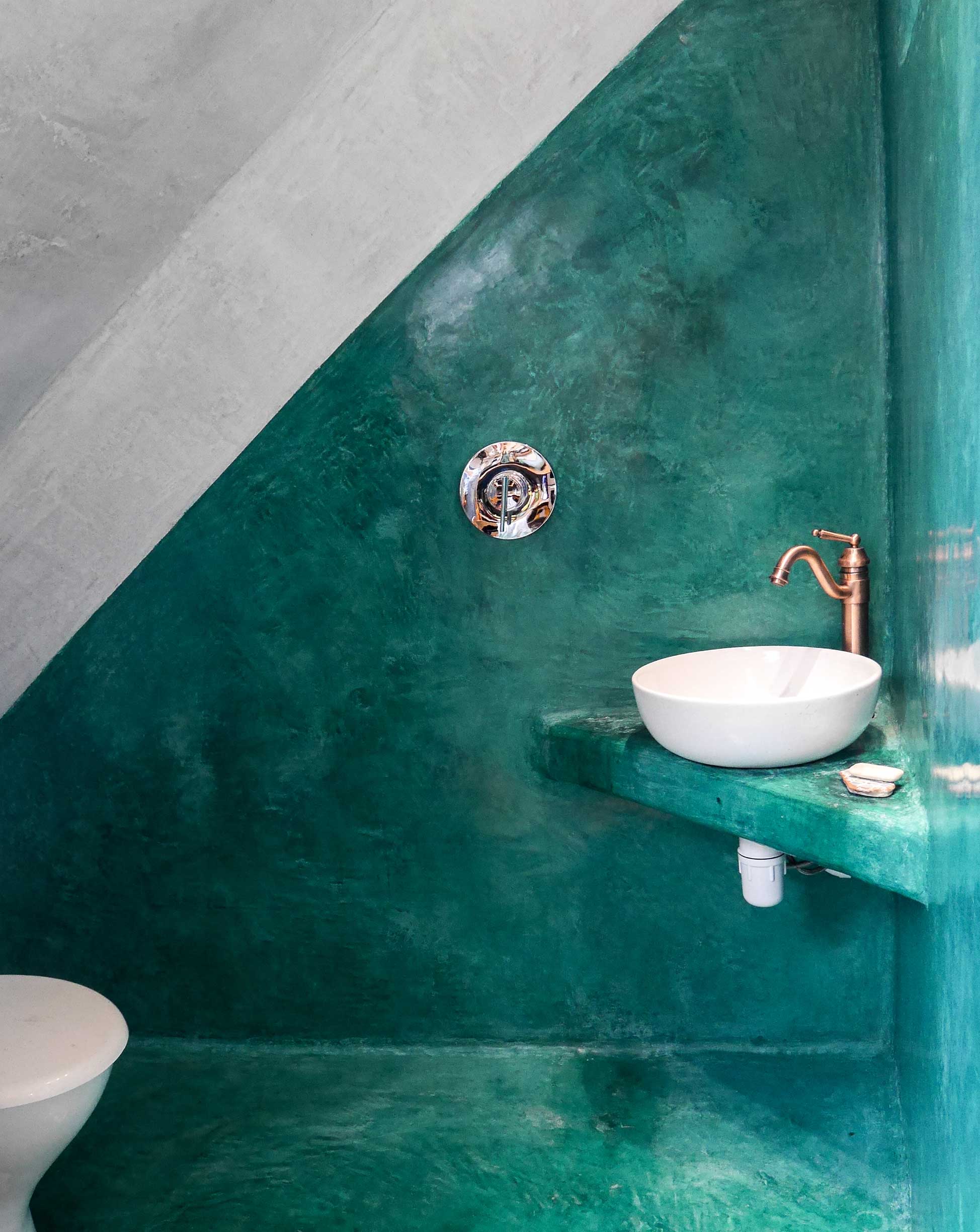 Description
A wetroom on a 3rd floor appartment in the centre of Edinburgh. The background is mostly plasterboards plasterboards.
The shower comes from the ceiling and the floor drains in the middle. We chose 2 colours, green and the off-white of the tadelakt itself, (so no pigments) not to make it too dark in the room.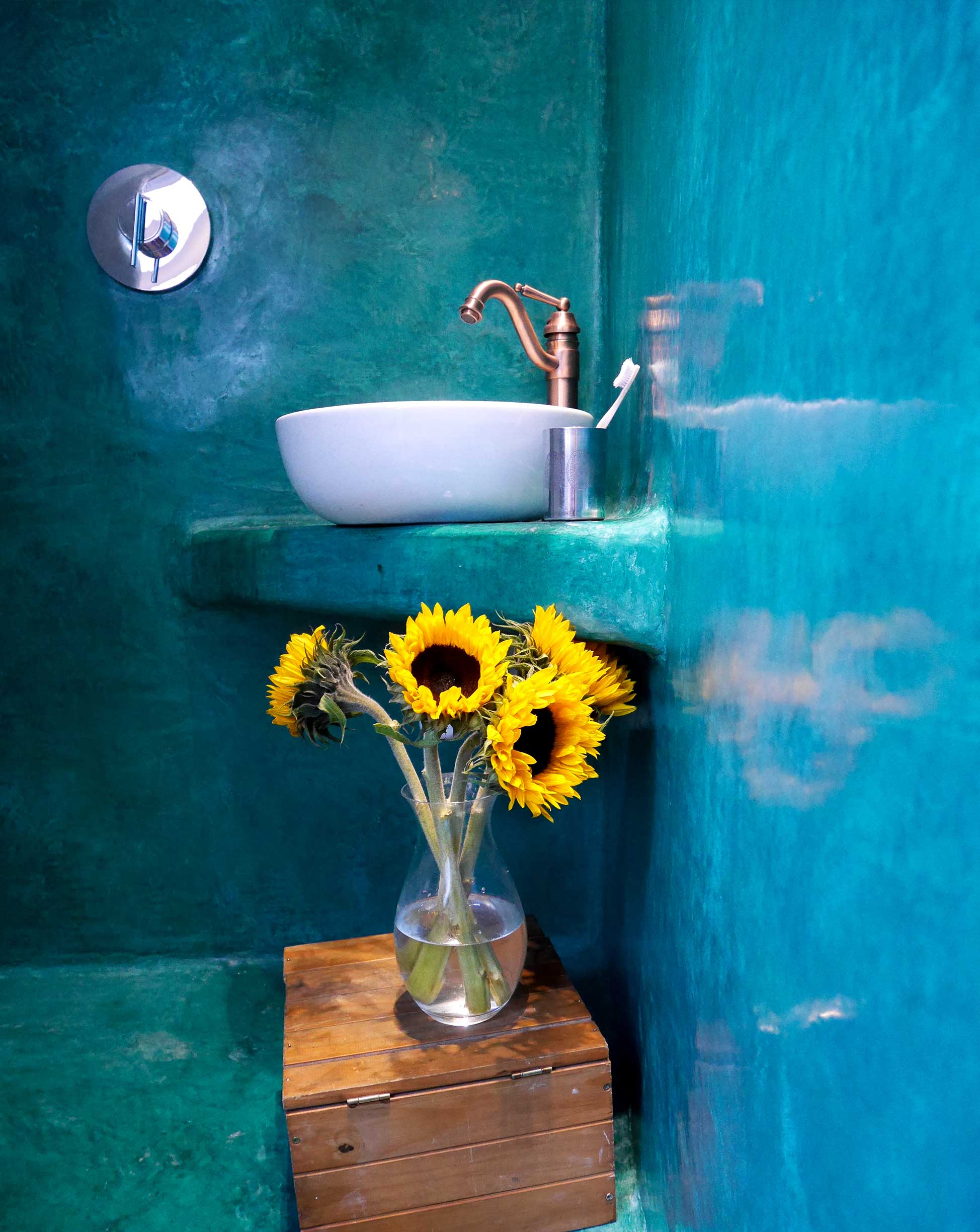 What the client thinks
"Eveline is highly creative and has the tenacity and vision to manifest truly original and beautiful designs.
Our deep green shower room, with the sun streaming through and splintering into rainbows in the spray, is a daily joy.
Running through all her beautiful and functional creations is a strong commitment to community and environment which permeates her process at every level from researching and sharing new techniques and sourcing sustainable materials through to working responsively and diligently towards a shining finish.
If you are looking for someone thoughtful and passionate to create unique work – look no further."
—— Tim Vincent-Smith, Musician, Edinburgh (UK)
Thumbnails (click on image to view full image)
Skattungbyn, Bathroom, Dalarna Sweden
---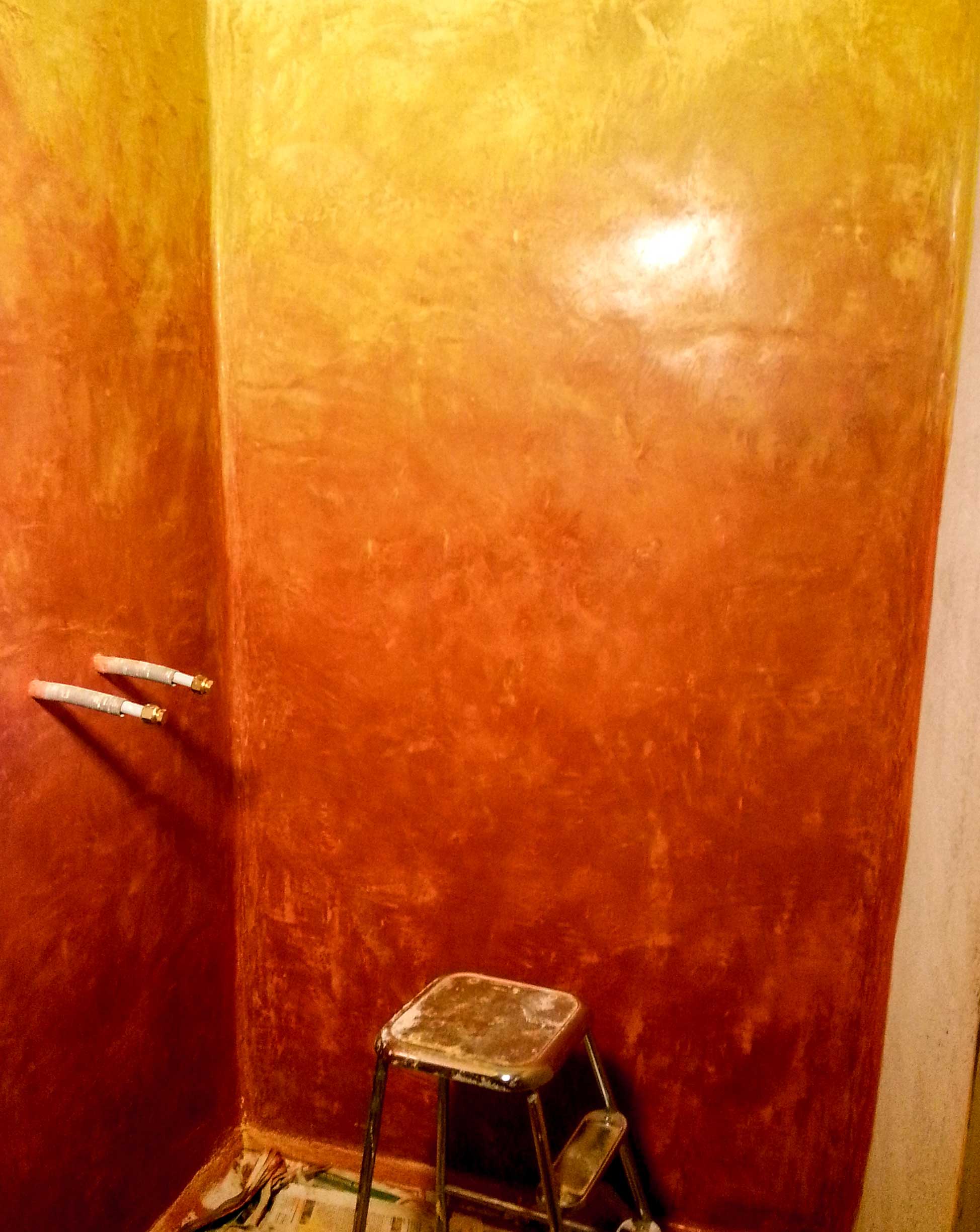 Description
The client wanted a 'fiery warm' shower. Three colours going into each other. Very exciting to do this for the first time on a 'big scale' and letting colours blend. Applied with a red, orange and yellow layer at the same time.
We included a window on the opposite side of the room, in the same colours to make the bathroom a 'whole'.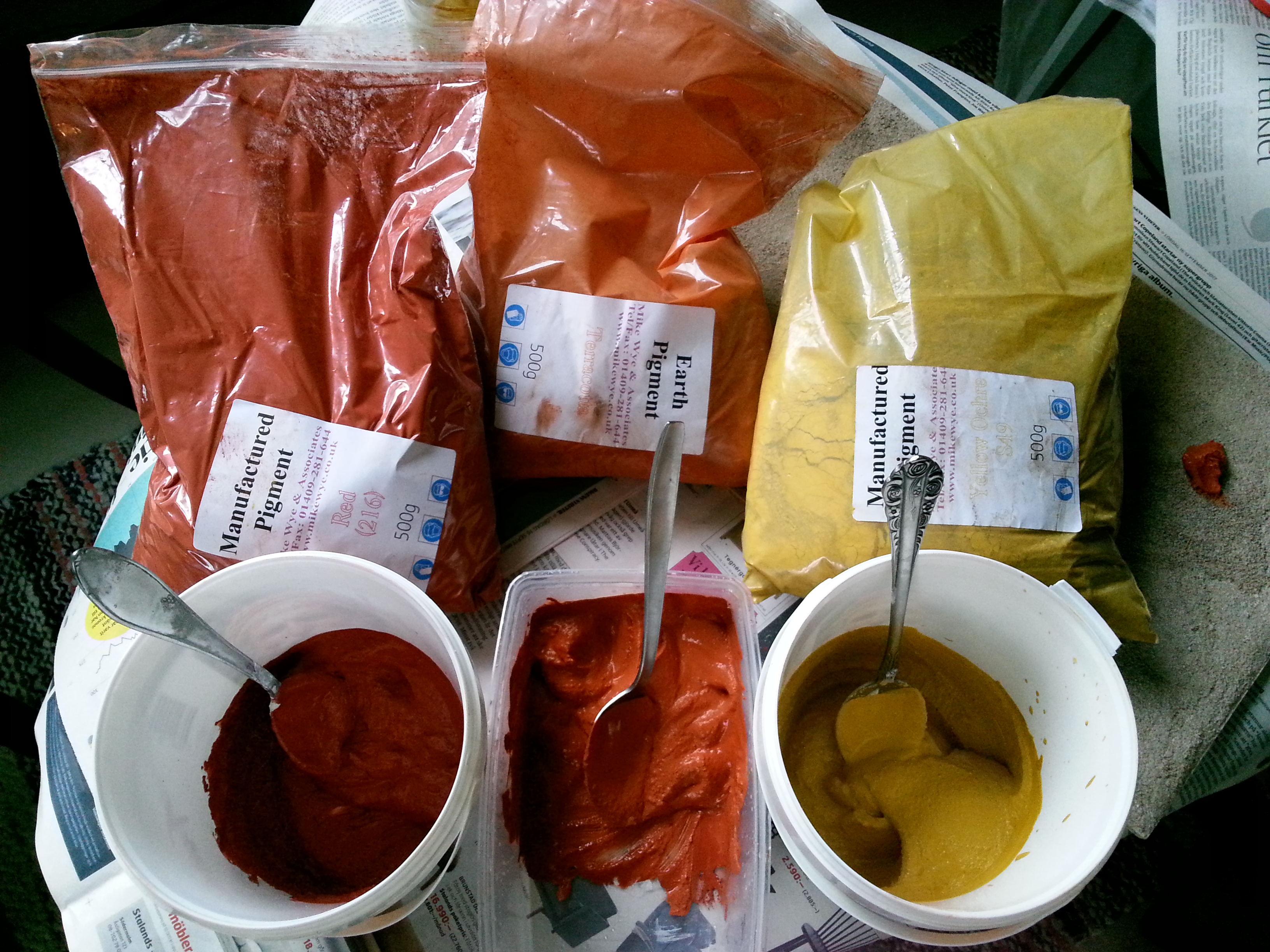 What the client thinks
"It was a pleasure to work with Eveline. She was very receptive to find the colour I had in mind for my shower, and the result was amazing! It is a piece of art, created with a lot of technical skills and dedication." — Eva Njordfell, Sweden
Thumbnails (click on image to view full image)
Nackunga Community, Kitchen,  Sweden
---
Description
In this beautiful blue-ish kitchen splashback I was asked to put in 'the seed of life'. Engraved while it was still soft. The other side shows the growth into a 'tree of life'.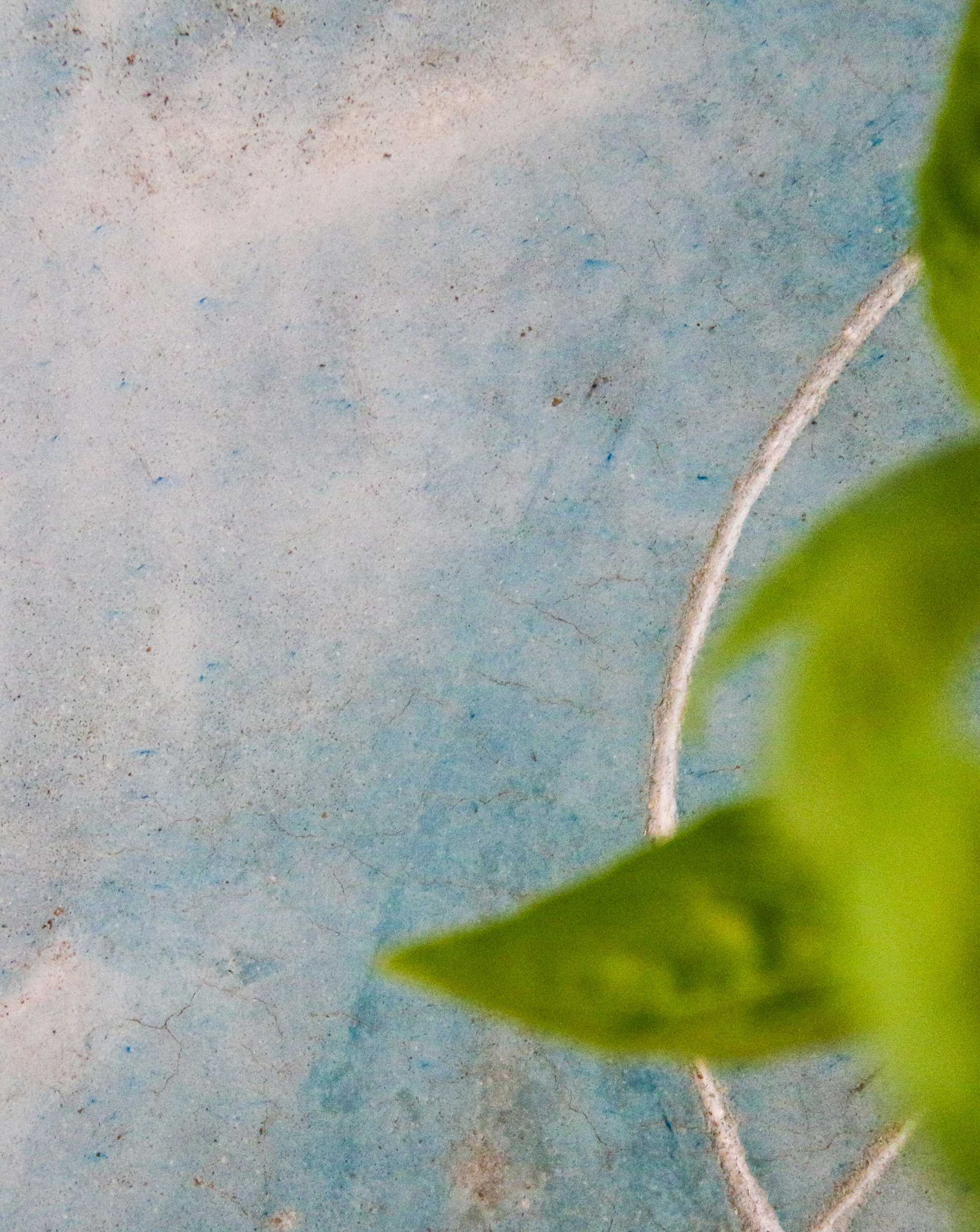 What the client thinks
Eveline made a fantastic job! The magical surface has been a joy for us ever since it was created.
She is easy to work with and adapt well to our changing opinions and needs!
Thank you so much for the great piece of art in the kitchen.
— Andreas Fogelqvist, carpenter and web designer, Sweden
Thumbnails (click on image to view full image)
Organically shaped shower, Hölö, Sweden
---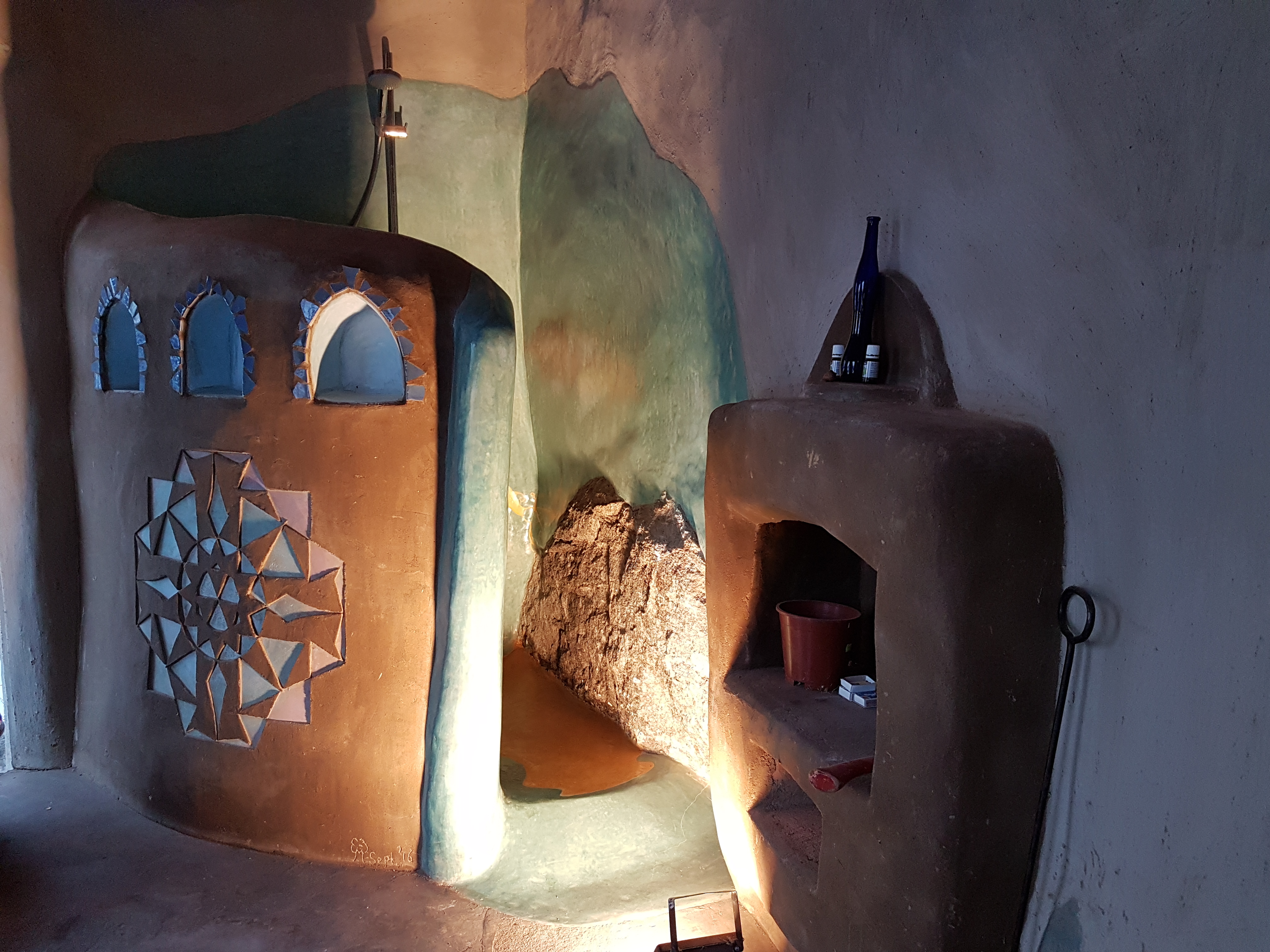 Description
This organically shaped shower was made from scratch with cob and wood. The front has several layers of plaster, and has plaster cut out to reveal coloured layers beneath. The wall was repaired after cracks appeared as a result of sinking of the building. New art arose from the opportunity. The blue green tadelakt colour consists out of over 10 pigments.
Thumbnails (click on image to view full image)
Tadelakt Course Fröholmen
---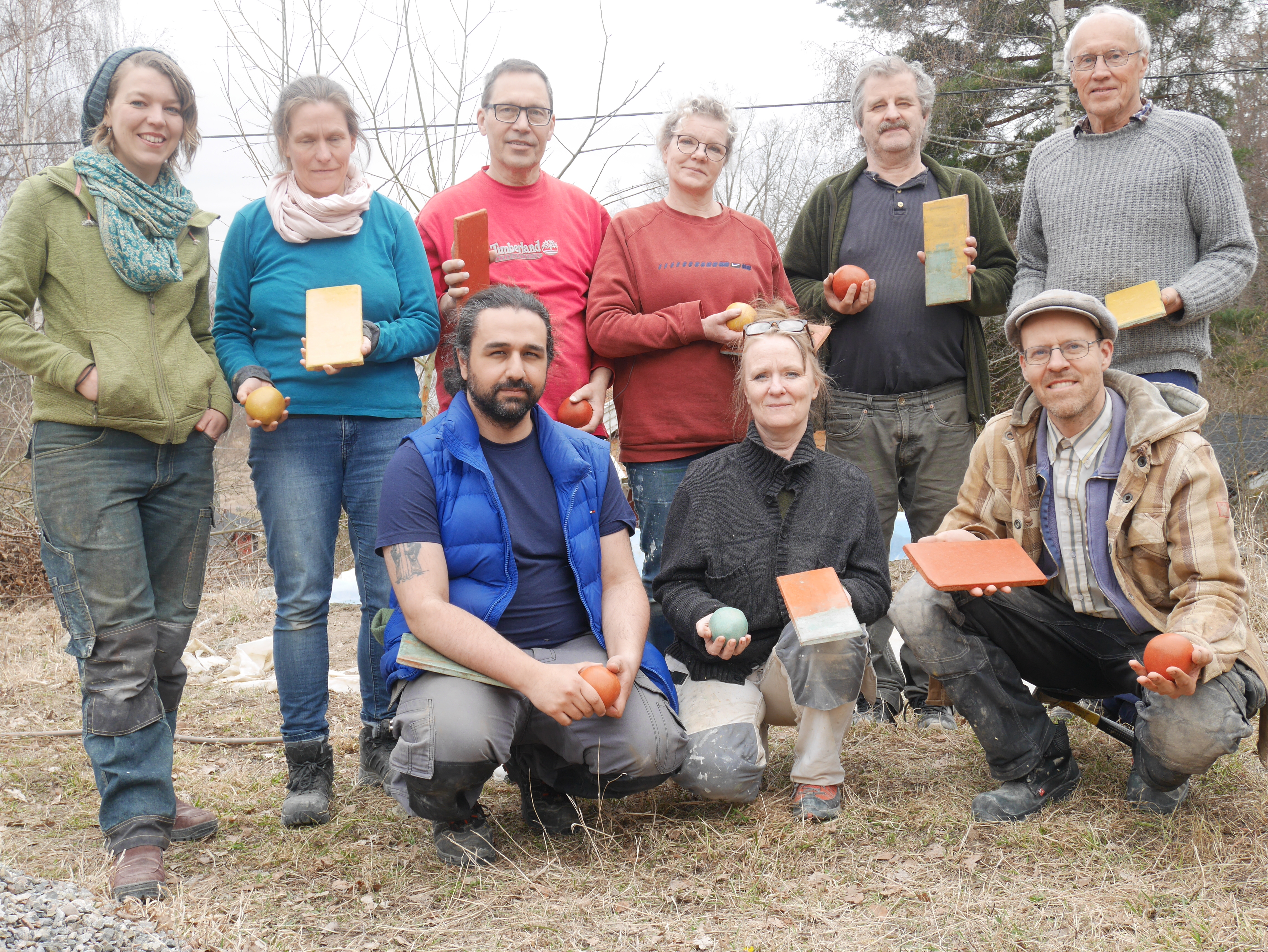 Description
A 3 day tadelakt course to get the basics in Tadelakt, in cooperation with Kurs med Tradition, Mickael Kruse. Amazing homegrown organic food was brought to us by this masterchef while working on these beautiful kitchen walls. Lots of fun with these artisians!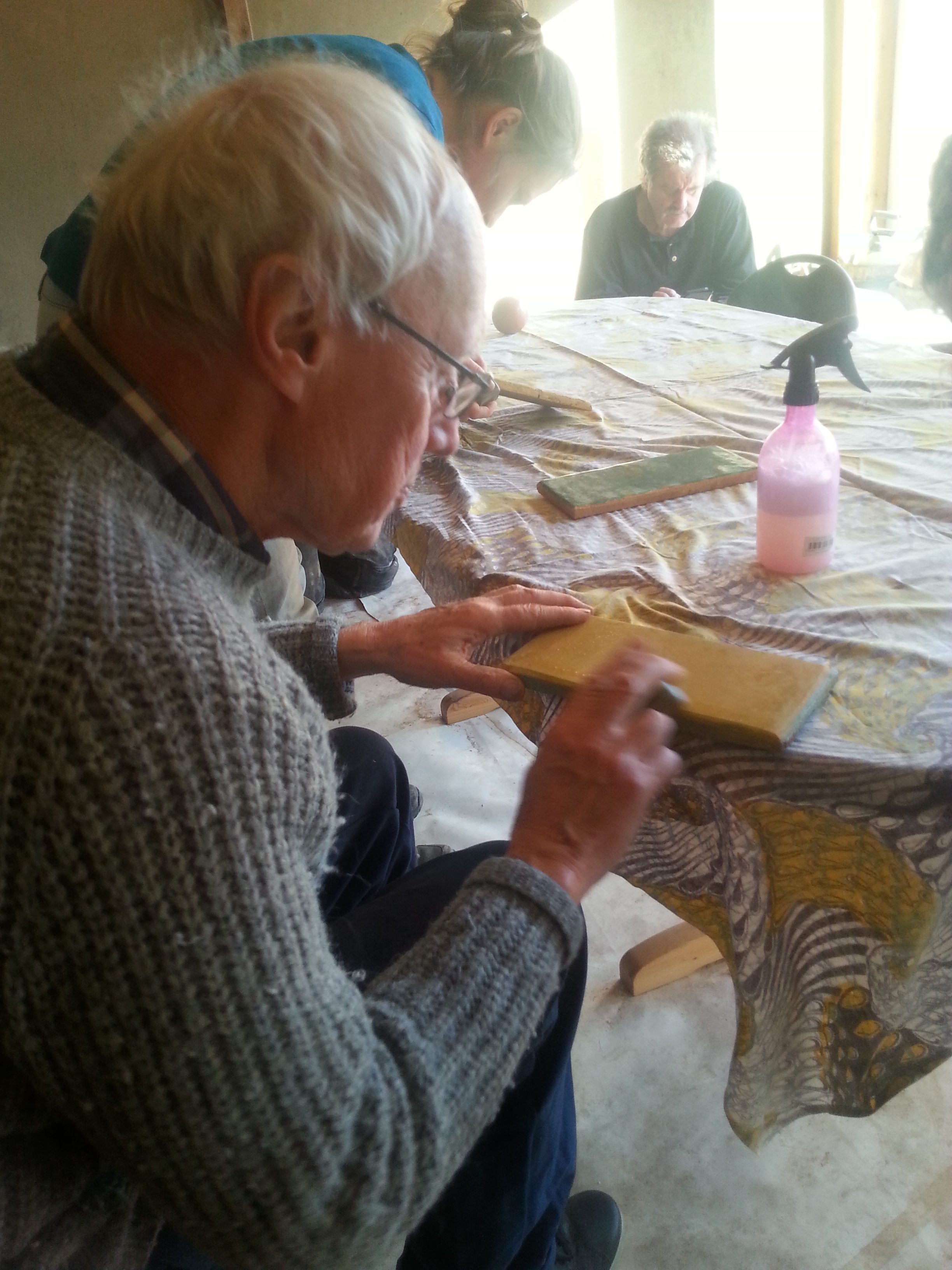 What the participants think
"A hands-on training course that gives you both the basic technique and the inspiration you need to continue on your own. Thank you for a very good course!" — Ingrid Peterson, 2018.
 " I enjoyed this class enormously and it feels handy, long enough and clear to make you go home and love this material"  –Lillian, painter, 2018
Thumbnails (click on image to view full image)